Creating a product can be a really hefty task, and hiring the right people for it is a critical side of the process. This article is a guide through some of the top product design agencies and studios with an impressive number of successful, large-scale projects across multiple niches and industries. 
We'll take a closer look at their style of work and approach, as well as explore the benefits of working with them. 
Let's dive right in. 
UX case studies
See our UX Design Agency Case Studies
Take a look at the case studies we've developed to see just what great UX can do.
See Case Studies
Adam Fard Studio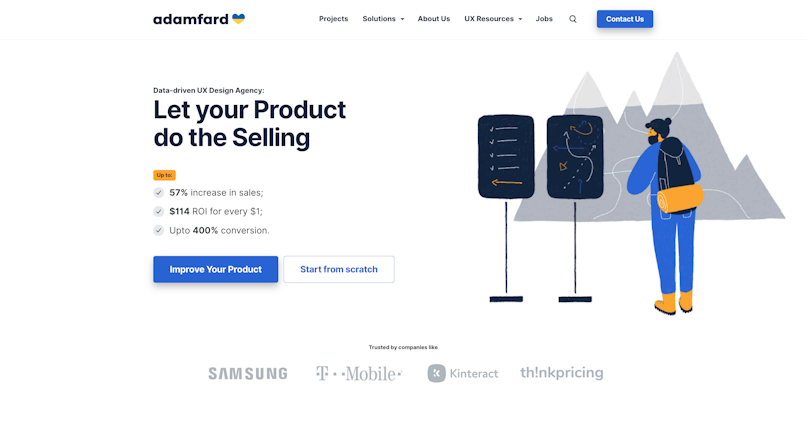 Our product design agency's focus revolves around FinTech and SaaS. Over the years, we've developed a strong professional interest in working with complex B2B products—this is where we thrive. 
Counter to what most modern studios offer, like flashy, marketing-oriented B2C websites, we aim to help intricate and multifaceted products become intuitive and accessible. To do this, we leverage our extensive experience in merging multiple systems, crafting coherent and cohesive experiences, and boosting business metrics like Activation, Conversion, and Retention.
Another reason why we choose to focus on complex projects is our team—it consists of Senior Researchers and Designers with 8+ years of experience. We integrate UX into the very DNA of our client's projects through education and design best practices. 
Our UX work boils down to eliminating uncertainty and minimizing product risks. Design is not just about dragging pixels from one place to another—we dig deep into our clients' business and help them achieve product-market-fitness with extensive research and a solid design process.
More importantly, we dive deep into your users' needs by working with a team of experienced researchers that will uncover more actionable insight compared to the industry-standard one-man-designer-army.
We're a relatively small team which helps us stay nimble and flexible. We've been remote long before the pandemic hit, which is why we're pretty good at keeping our distributed team efficient.
💰 Pricing range: $50 - $99 / hr;
🌏 Geography & Timezone: Distributed team in EU & US timezone;
🦄 Niche Expertise: B2B Fintech, Complex SaaS & Enterprise products, K-12 Edtech.
WANDR Studio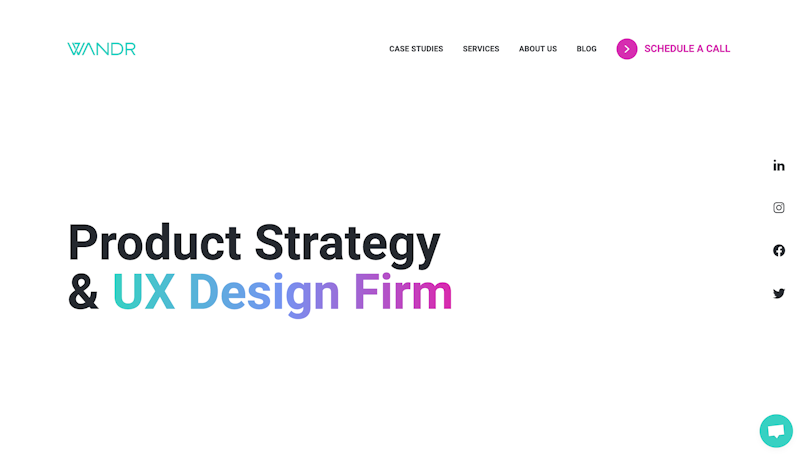 Wandr Studio started is a remote UI/UX Agency that focused on startup projects that had tight deadlines and budgets. This helped the core team develop a great sense of adaptability, enabling them to think ahead and mitigate risks while delivering work with a sense of urgency.
Wandr is a tight-knit group of knowledge-hungry professionals committed to making your product grow and evolve over time. The agency is based in LA but has a diverse team distributed around the globe.
💰 Pricing range: $150 - $199 / hr;
🌏 Geography & Timezone: global coverage;
🦄 Niche Expertise: healthcare compliance, no-code, cybersecurity;
Visit WANDR Studio's website here.
Fuzzy Math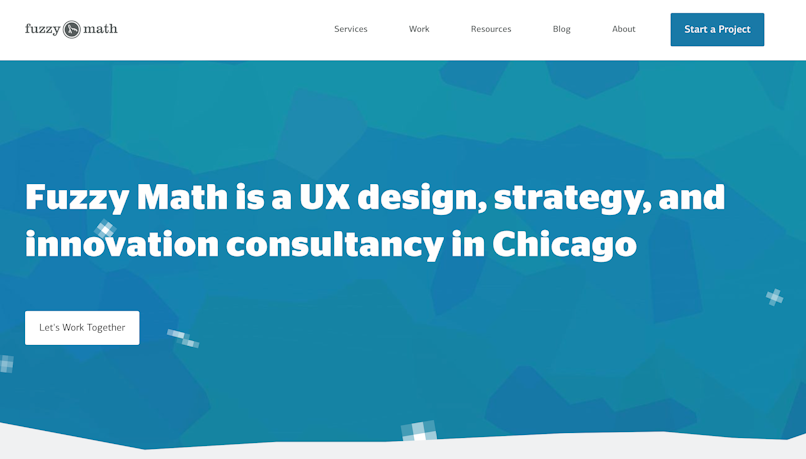 Fuzzy Math is a UX design, strategy, and innovation agency based in Chicago. They believe in a design process that doesn't aim to look good but rather makes users feel good about themselves. 
Their approach has a strong focus on empathizing with the people they design for—they do it through extensive research, enabling them to discover their expressed and hidden needs. 
They keep their roster small and stable, allowing them to ensure that their clients receive an agile and all-hands approach during projects. 
💰 Pricing range: $150 - $199 / hr;
🌏 Geography & Timezone: Chicago (USA);
🦄 Niche Expertise: non-profit, healthcare R&D, b2b hiring;
Visit Fuzzy Math's website here.
Work & Co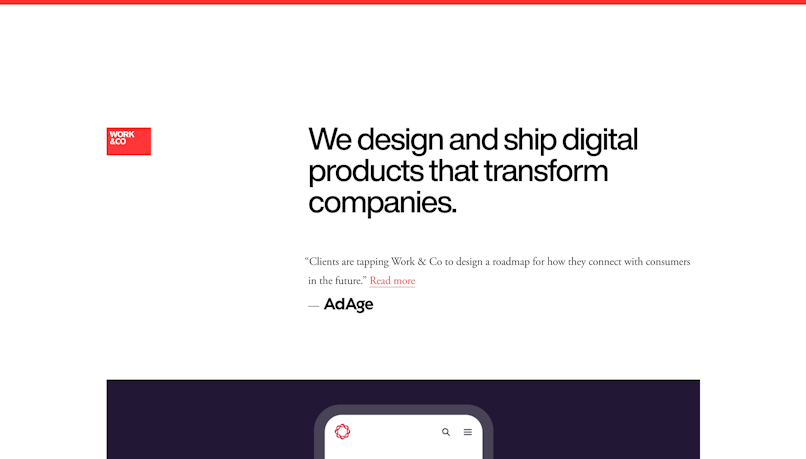 Work & Co is a large digital product agency with offices all over the world—the US, Europe, and Latin America.
They focus on hiring highly experienced professionals, due to their approach. Work & Co believes that the best products are made with small, senior teams that have a hands-on approach from the very beginning to the end of a project. They include their clients directly in their iterative process that is based on rapid prototyping, meticulous testing, limiting the number of large meetings. 
Work & Co has a team of UX researchers, designers, and developers that work together to create a design-based digital strategy for a product. They help their clients better understand their markets and design products that help them scale.
💰 Pricing range: $100 - $149 / hr;
🌏 Geography & Timezone: Offices in New York (USA), São Paulo (Brazil), Rio De Janeiro (Brazil), Belgrade (Serbia), Copenhagen (Denmark), Atlanta (USA), Los Angeles (USA);
🦄 Niche Expertise: online gaming, news, traveling;
Visit Work & Co's website here.
UX Studio Team
The UX Studio Team is a group of 40 UX design and research specialists passionate about what they do. They focus predominantly on working with tech startups and enterprises in the FinTech, fashion, travel, education, and healthcare industries. 
Aside from providing their clients with end-to-end design solutions, they also create their own products. They find that it gives them a deeper, more hands-on understanding of the industry as a whole, as well as plenty of actionable insight into the latest tech and design trends. 
💰 Pricing range: $100 - $149 / hr;
🌏 Geography & Timezone: Budapest (Hungary);
🦄 Niche Expertise: language learning, online video streaming, traveling;
Visit UX Studio's website here.
Lighthouse London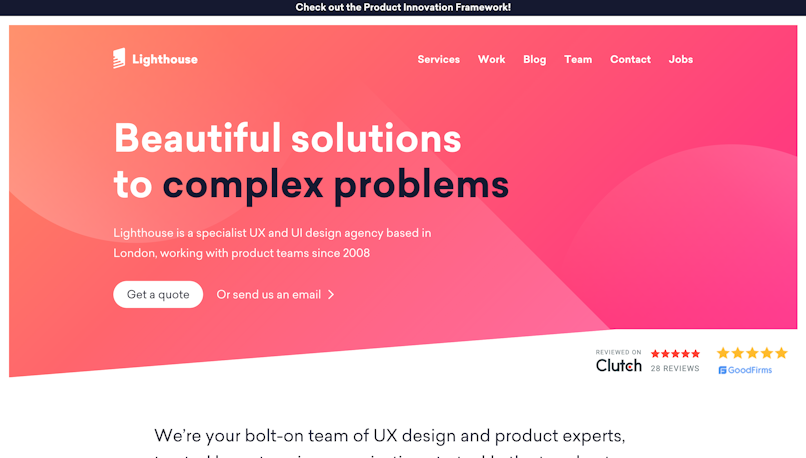 Lighthouse is a London-based UX and UI agency that has been in business since 2008. Their focus predominantly revolves around creating innovative solutions for complex products.
They've been in the game long enough to develop their own signature four-stage Product Innovation Framework that can elevate pretty much any idea and turn it into a full-functioning product.
Their agency also features a wide array of UI and UX researchers and experts with vast experience in designing innovative products and services for businesses of all sizes.
Over the years, Lighthouse has also assisted many organizations scale by managing their design and brand identity.
💰 Pricing range: $200 - $300 / hr;
🌏 Geography & Timezone: London (UK);
🦄 Niche Expertise: renewable energy, cybersecurity, petTech;
Visit Lighthouse London's website here.
Designit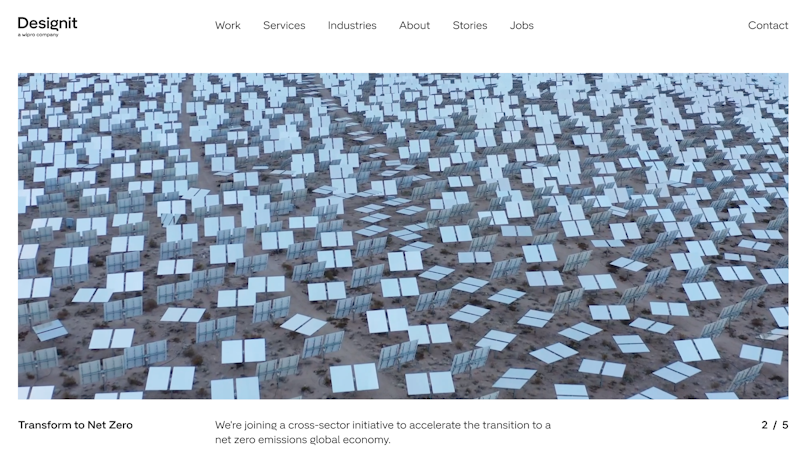 Designit is the brainchild of the legendary Alan Cooper and his talented wife, Sue Cooper. The agency was founded in 1992.
Although the studio is now run by a professional manager, its founders are still actively participating in "bigger picture" decision-making, which undoubtedly allowed it to earn the top spot among UX agencies around the world. 
Alan Cooper is the person behind the Visual Basic programming environment, which became an essential asset in the Microsoft ecosystem. He was one of the visionaries who fully understood good design's importance in the early days of computers and user interfaces. 
💰 Pricing range: $25 - $49 / hr;
🌏 Geography & Timezone: Offices in Aarhus (Denmark), Bengaluru (India), Copenhagen (Denmark), London (UK), Madrid (Spain), Melbourne (Australia), Munich (Germany), New York (USA), Oslo (Norway), San Francisco (USA), Seattle (USA), Stockholm (Sweden), Sydney (Australia), Tel Aviv (Israel), Tokyo (Japan);
🦄 Niche Expertise: sustainable lifestyle, beauty retail, industrial machinery;
Visit Designit's website here.
Goji Labs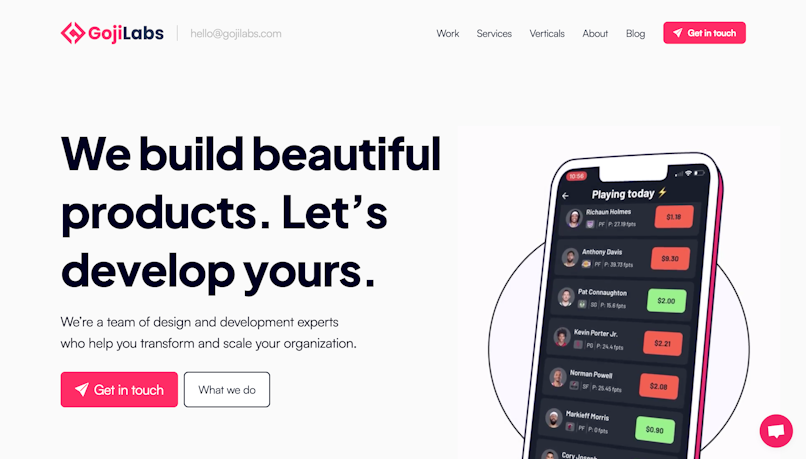 Goji Labs' approach is all about full-on integration into their customers' businesses and becoming a natural extension of their team. They take the time to diligently study their operations inside and out, which allows them to create digital solutions that really drive market success. 
The team has a vast range of technical expertise, allowing their customers to focus solely on growing and scaling their business.
💰 Pricing range: $100 - $149 / hr;
🌏 Geography & Timezone: Los Angeles (USA), New York (USA);
🦄 Niche Expertise: FQHC, precious metal investing, recruiting;
Visit Goji Labs' website here.
Momentum Labs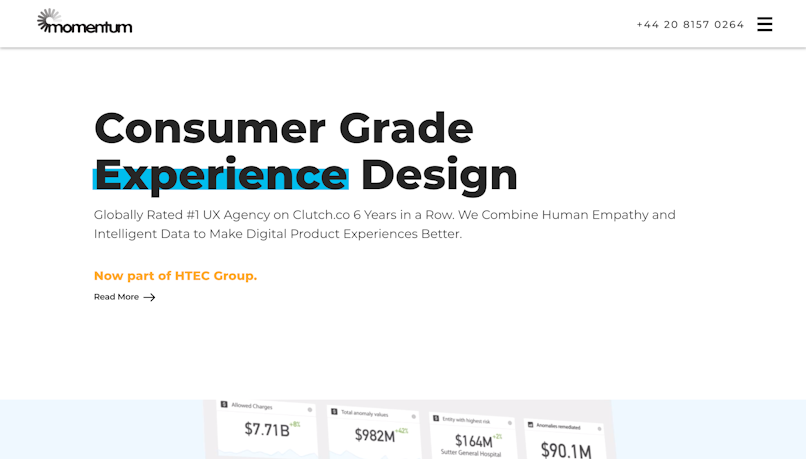 Momentum Labs specialize in developing high-quality human-centric customer experiences across digital product innovation, transformative business processes, and creative marketing.
Their focus revolves around the financial, healthcare, retail, consumer products, and technology industries. 
Their approach is defined by extensive research and a thorough understanding of their client's business goals as well as the needs of the people they design for. Whether it's AI, IoT, Analytics, Blockchain, or Cloud-based Applications, their goal is to do more than just average marketing; their goal is to innovate and explore uncharted territories. 
💰 Pricing range: $150 - $199 / hr;
🌏 Geography & Timezone: New York (USA), London (UK), Belgrade (Serbia), San Mateo (USA);
🦄 Niche Expertise: digital media management, crypto, wellness;
Visit Momentum Labs' website here.
Clay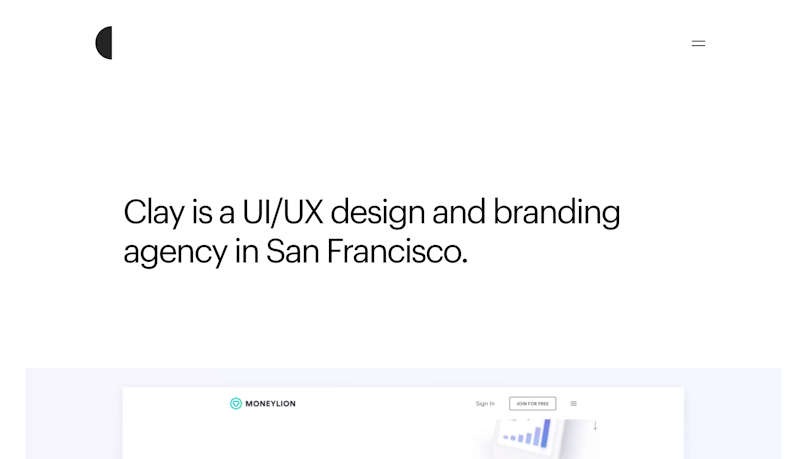 Clay is a reputable San Francisco-based agency with quite an impressive roster. They've assisted some of the world's largest businesses in creating transformative digital experiences, websites, and identities.
They have a large team of highly experienced UX designers that allows them to design and develop world-class digital products that exceed user expectations. Their main field of interest is conversion optimization and customer engagement across mobile apps, websites, and enterprise software.
Similarly, they're very good at crafting successful and thoughtful brand identities and defining their visual and communication strategies. Their approach revolves around fusing UX and storytelling techniques to take brand communications to a higher level.
💰 Pricing range: $200 - $300 / hr;
🌏 Geography & Timezone: San Francisco (USA);
🦄 Niche Expertise: lending, hardware, healthcare administration;
Visit Clay's website here.
The bottom line
It's essential to underline that simply picking a successful product design agency for your product needs isn't enough—you should always ensure that their approach and industry focus overlaps with your business and brand needs. 
Top Product Design Agency
Turn Product Design Into Your Competitive Advantage
Need help with your complex products? – We've got you covered 👇
Get in touch now
What does a digital product agency do?
Product design agencies offer a variety of services such as: User and Market Research, Innovation Workshop, UX Consulting, UX Strategy, User Experience Design, Interface, Visual Design, Creation of a Design System and Developer Documentation.
How to choose a product design agency?
You should always ensure that their approach and industry focus overlaps with your business and brand needs.
Similar Articles