In the ever-evolving landscape of user experience, staying updated with the industry's best is crucial. As we step into September 2023, the demand for insightful user research has never been higher. Whether you're a startup looking to understand your audience or an established firm aiming to refine your offerings, choosing the right user research company can make all the difference.
In this article, we'll unveil the top 5 user research companies that have been making waves this month.
Adam Fard Studio
Adam Fard Studio excels in user research-driven design strategy, creating bespoke B2B solutions primarily for the FinTech and SaaS industries. By deeply understanding user needs and behaviors, we craft designs that are both practical and efficient, aiming to enhance crucial business indicators like activation, conversion, and user retention. Our experienced team emphasizes strategic risk reduction through thorough user insights.
💲 Rate per Hour: $49 to $100;
👥 Team Size: 10 to 49 members;
🧙 Expertise: FinTech, SaaS, intricate enterprise applications, apps in merger processes;
🤔 Ideal for: budding startups and large-scale enterprise solutions.
Fuzzy Math
Located in the heart of Chicago, Fuzzy Math stands out for its strong emphasis on user research. By delving deep into both explicit and hidden user needs, their approach is profoundly empathetic. This dedication ensures that their designs not only resonate emotionally with users but also provide a superior and meaningful user experience.
💰 Hourly Rate: $150 to $199;
🌏 Location & Time Zone: Chicago, USA;
🦄 Specializations: Non-profit sectors, healthcare research & development, B2B recruitment.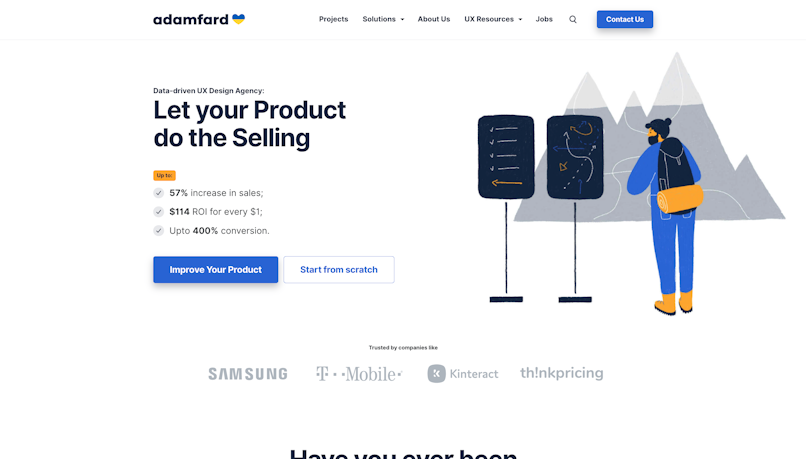 Lighthouse London
Lighthouse, a distinguished UX and UI agency in London, has emphasized user research since 2008. Their unique four-stage Product Innovation Framework, rooted in understanding user needs, adeptly transforms ideas into comprehensive products. Boasting a team of seasoned UI and UX researchers, they've consistently delivered user-centric solutions for businesses of all scales.
💰 Hourly Rate: $200 to $300;
🌏 Location & Time Zone: London, UK;
🦄 Specializations: Renewable energy, cybersecurity, pet technology.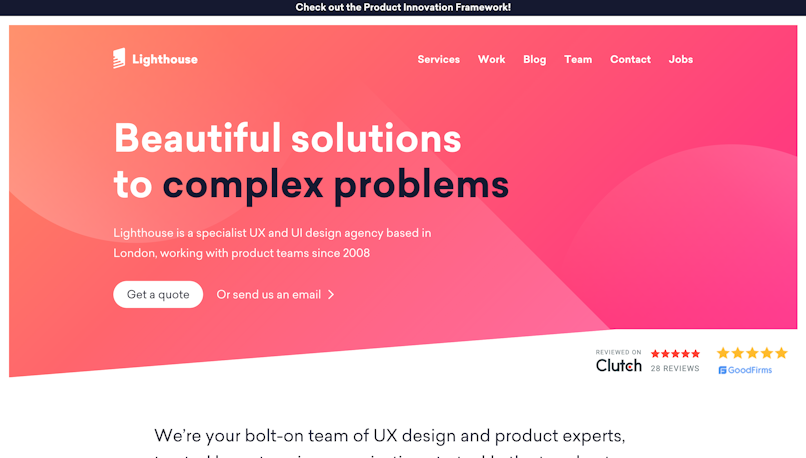 Momentum Labs
Momentum Labs excels in crafting human-centric digital experiences with a focus on innovation and transformative strategies. Serving sectors like finance, healthcare, and technology, their research-driven approach goes beyond traditional marketing, leveraging AI, IoT, and Blockchain to pioneer new frontiers.
💰 Hourly Rate: $150 to $199;
🌏 Locations: New York (USA), London (UK), Belgrade (Serbia), San Mateo (USA);
🦄 Specializations: Digital media management, cryptocurrency, wellness.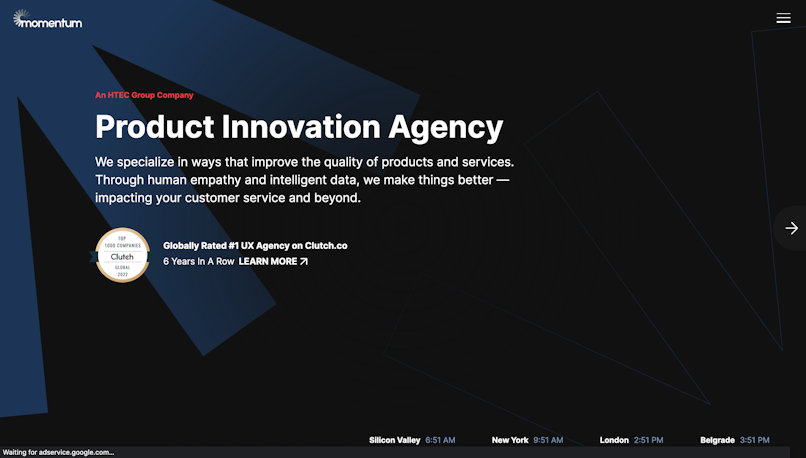 Nielsen Norman Group
Nielsen Norman Group stands as a leading UX consultancy, renowned for its deep-rooted emphasis on user research. Co-founded by UX trailblazers Don Norman and Jakob Nielsen, the company has been at the forefront of user experience since its inception. They are acclaimed for their comprehensive UX industry reports, insightful educational content, and training events. Their commitment to user research has attracted a roster of top-tier clients.
🌎 Location: United States
👥 Team Size: 10-49
💰 Pricing: Single Platform (website, intranet, or application) – $38K, subject to complexity. Multi-Platform (2-3 screen sizes): $45,000-65,000. Competitive Review (Your website + 3 competitors): $75,000.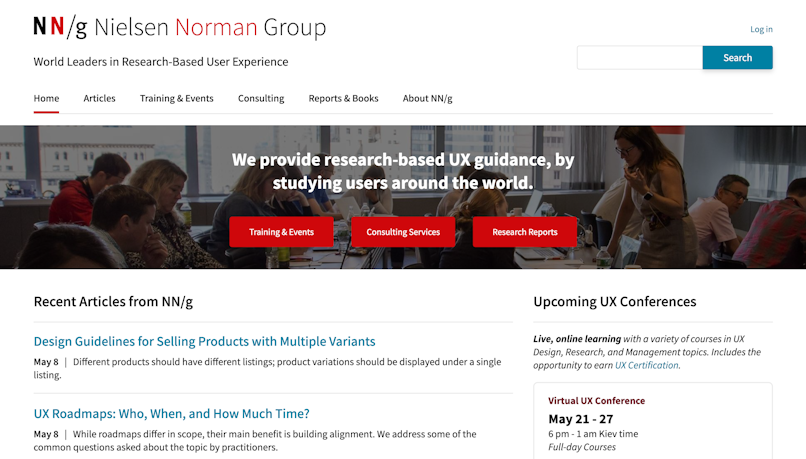 Outro
As we wrap up our exploration of the top user research companies for September 2023, it's evident that the right insights can propel a brand to new heights. These companies not only offer expertise but also a deep understanding of user behaviors, preferences, and needs.
As you consider your next steps in the UX journey, remember that investing in quality user research can be the catalyst for transformative growth. Stay informed, stay ahead, and always prioritize your users.
Similar Articles