UX audit, otherwise known as UX review, is an invaluable asset to a business's success.
It's a procedure that's relevant for both aspiring startups and established companies.
Imagine that you've put out an excellent product that has been serving its users impeccably for quite a while. But there comes a time when your growth stagnates and engagement is down.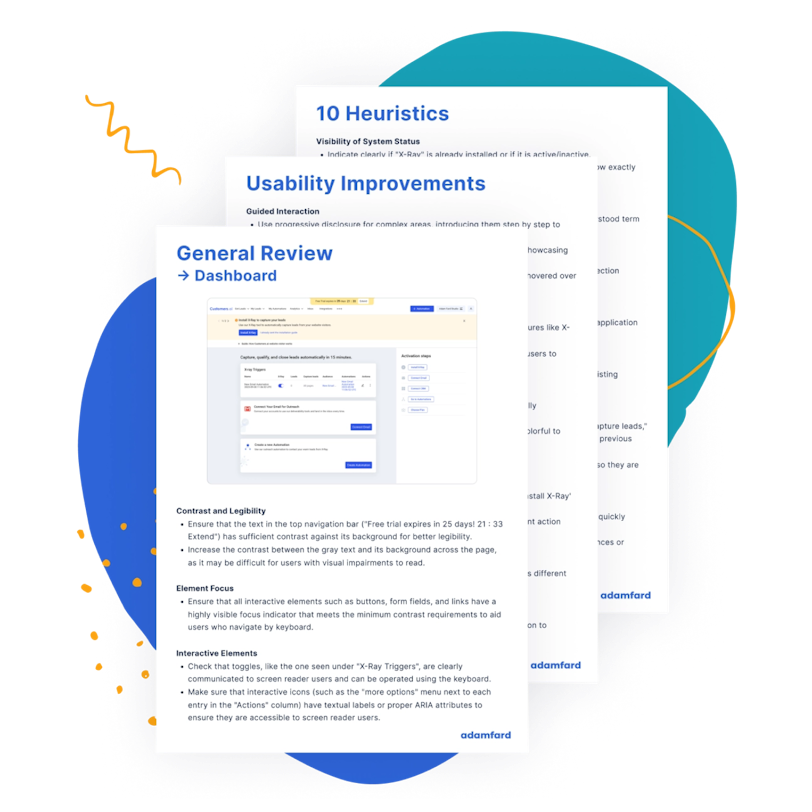 A Rapid UX Audit
Get an express UX Audit. Done in 24 hours.
Submit designs. Get a review the next day. It's that simple.
Try now
It's natural for companies to make small tweaks to their apps and sites throughout the years. At some point, however, you realize that your product no longer delivers a cohesive experience. This is the right time to conduct a user experience review. 
Today, we're going to explore what a UX audit is and how it can transform your product. Furthermore, we're going to look into what you should expect from one — and if you even need one at all. 
Let's dive right in. 
What is a UX audit? 
This process allows companies to identify usability issues and their solutions. Its goal is to locate areas in the user's journey that cause unnecessary friction.  It's a Standard Operating Procedure that's relevant for both aspiring startups and established companies.
This is especially important for startups because they are generally blazing new trails. To ensure that their innovative products gather a broader acceptance, they need to be usable and intuitive. 
Essentially, such reviews are necessary to answer seemingly basic but crucial questions like:
Where do users experience excessive friction?

Where do users most often abandon their journey? 

What causes the frustration that makes them abandon the customer journey? 

What is the nature of that frustration? Do they dislike something or simply need more information? 
A UX review also tackles a series of smaller, more focused issues. The good part is that you can ask the team of auditors to pay special attention to specific parts of your product. As a result, it provides you with in-depth insight in minute but vital details that can help you better your product. 
Recap: A UX audit allows companies to identify their products' major and minor usability issues. 
The value our UX audits bring
Obvious benefits aside, we should treat such reviews as a mandatory step in a product's lifecycle. Poor user experience is a costly affair. 
One of the most widespread reasons to invest in UX as a company is ROI. Many reports show staggering returns on usability expenses, and there's a good reason for it: Nobody wants a poorly designed product.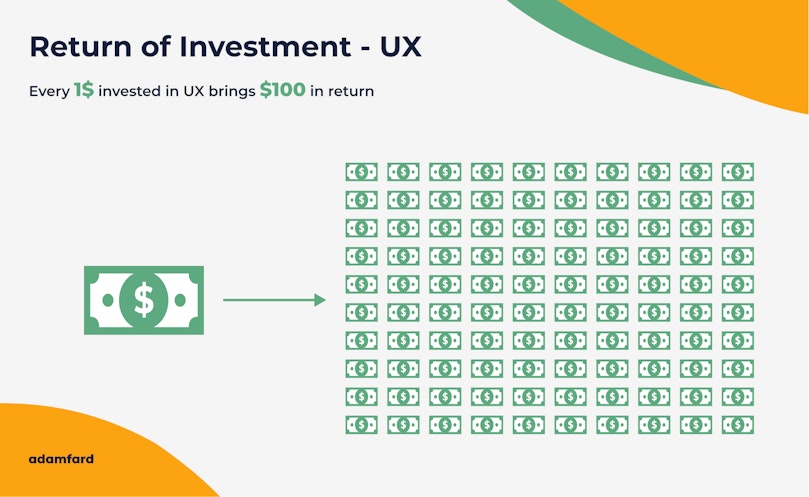 The conventional wisdom states that for one dollar invested into UX you get a hundred in return. To be fair, this claim has been made a long time ago. In 1992, in his book Software Engineering: A Practitioner's Approach Robert Pressman claimed that mistakes cost $1 to solve on the design stage, $6 – on the coding stage, $15 – on the testing stage, and $60-100 after launch. While we personally have no doubts about the potential UX yields, you should be aware that the math behind this truism is a little shaky.
On the other hand, the cost of bad design can be staggering. You end up losing users and invest more time and money in designs and redesigns. It's also worth mentioning that a poorly designed site or app will have low sales, CTRs, and so forth. 
Audits are an inexpensive solution to a costly problem. A study published by Forrester indicates that businesses that invest in UX enjoy a broad spectrum of benefits. They have lower customer acquisition costs, greater retention rates, and higher market shares.  
"When compared to their peers, the top 10 companies leading in customer experience outperformed the S&P index with close to triple the returns. […] [E]very dollar invested in UX brings 100 dollars in return. That's an ROI of a whopping 9,900 percent."

[Source]
Recap:  UX audits are a relatively inexpensive way to solve costly usability issues. 
How we do our UX audits
To assess the quality of user experience, UX researchers analyze a wide array of areas that usually include:
Usefulness

Usability

Visual appeal

Value

Stimulation
In other words, an audit isn't an activity. It's a combination of activities.
Reviewing a product can involve a variety of methods and approaches. As such, UX Audit could take many forms depending on the needs and goals. In practical terms, depending on the goals the audit may include usability testing, desk research, user interviews, heuristic evaluation, stakeholder interviews and a variety of other activities.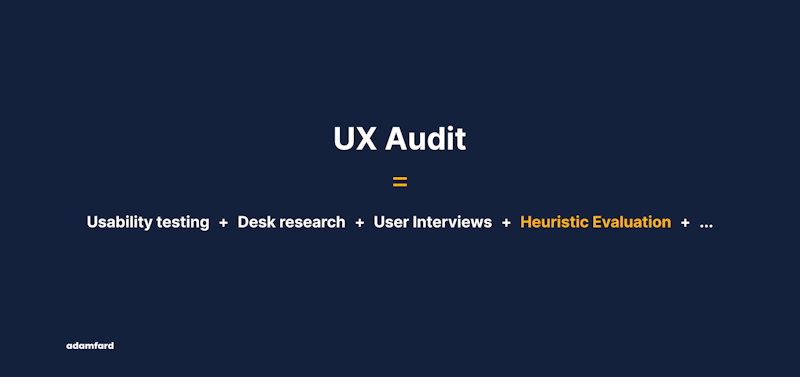 1. Usability Testing
Here's a thing about UX Audits. More often than not, these will be conducted in the form of heuristic evaluation. That's fine, as long the audit doesn't end there. Heuristic evaluation by itself is divorced from the users' input. As such, this activity is susceptible to designers' bias.
Don't get us wrong, a lot of designs will have flaws so blatant, that fixing them won't require users' input. However, the more competent the design team behind the product you're auditing, the fewer flaws you'll find by yourself. Therefore, talking to the actual users is the only way to reliably find the gaps in the product's usability.
This brings us to usability testing. In a nutshell, a usability testing session is a recorded meeting with actual or potential users, while the said users are attempting to complete tasks by using your designs. The industry standard is to have 5 interviews per feature/feature group. 6 and beyond will get you to the point of diminishing returns.
2. Interviews with stakeholders
This is often the first step of an audit. Kicking things off with a meeting with execs and management can provide essential context. This way, researchers can learn about the problems that the company is dealing with and the solutions it's after. 
The Ultimate Guide to Stakeholder Interviews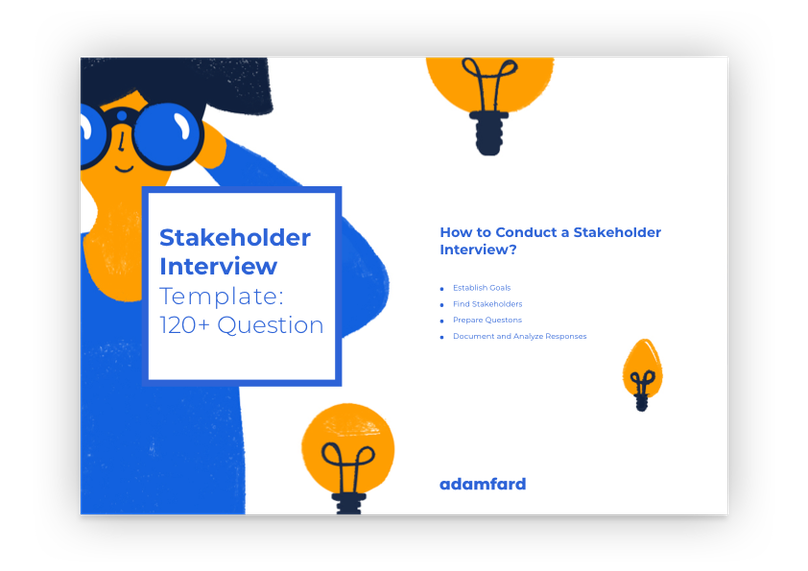 Free Template
Download the stakeholder template and get access to 120+ questions
Pick and choose the questions that are most relevant to your project and enjoy a stress-free stakeholder interview:
Donwload Now
Similarly, it's always a good idea not to limit interviews to higher management. Employees have a detailed understanding of a narrow field that they're responsible for. Their opinions and observations can greatly benefit the audit. 
These help form a detailed and all-encompassing list of goals and priorities. 
3. Heuristic evaluation
Let's get terminology out of the way first. A "heuristic" is a bit of a fancy word for a rule of thumb. Since the field of user experience design has existed for a little while now, the researchers have developed the guidelines for creating useable interfaces.
In more practical terms, a heuristic evaluation during a UX audit is having a team of designers evaluate your product while being on the lookout for any heuristic issues. The most common set of heuristics experts use is Nielsen's usability heuristics. These are as follows: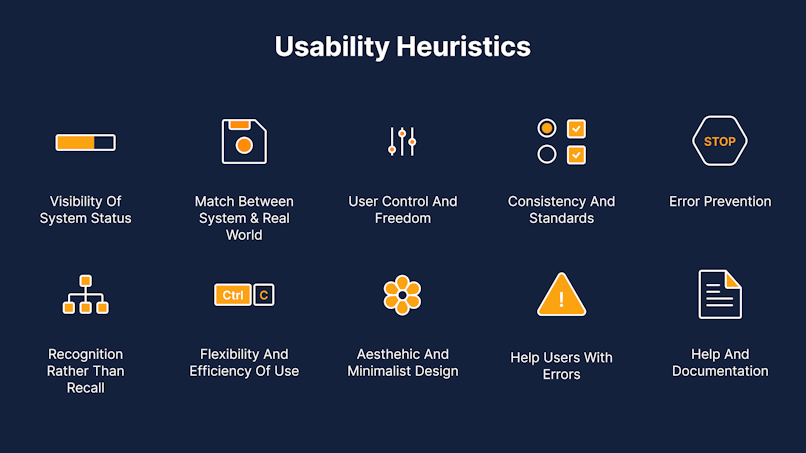 If you're looking to learn more about what each of these heuristics represents, we have an article on that.
We also have a comprehensive video that covers all aspects of heuristic evaluation. Consider taking a look at it if you prefer watching over reading.
4. User surveys & Interviews
User surveys and interviews are probably one of the most informative parts of the audit. Running a survey or an interview with your target audience can reveal a host of issues: both huge and minor. 
As people working with products, we're often prone to being "too close" to them. We're just too biased, and that often gets in the way of objectivity. A widespread belief is that interviews are too expensive, which is why many businesses refrain from it to cut costs. However, what's actually expensive is designing something no one needs or wants.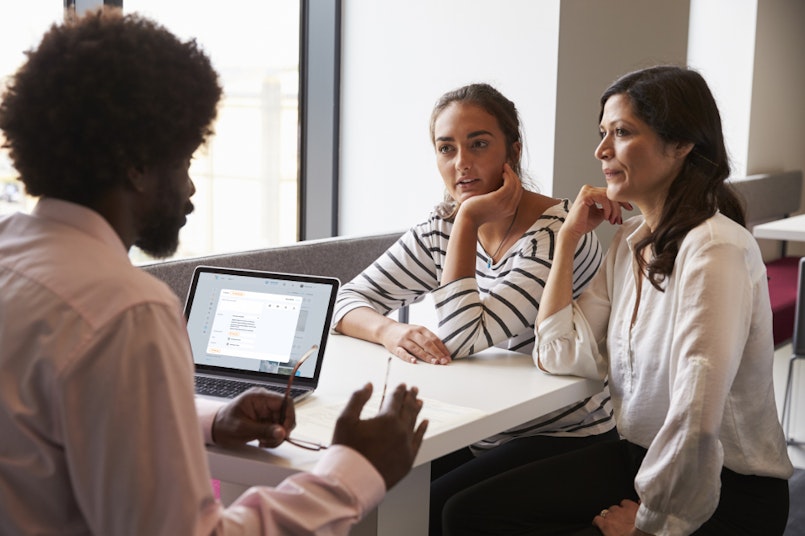 5. Traffic analytics
Carefully studying a website's traffic can reveal much about the product. Metrics like bounce rates can tell us how well the users' expectations are met. On-page time (a.k.a. dwell time) reflects how much or how little users engage with your content. 
Sophisticated tools like Google Analytics can be turned into a UX barometer when used right. As a business, it's essential to continuously collect this data to understand trends.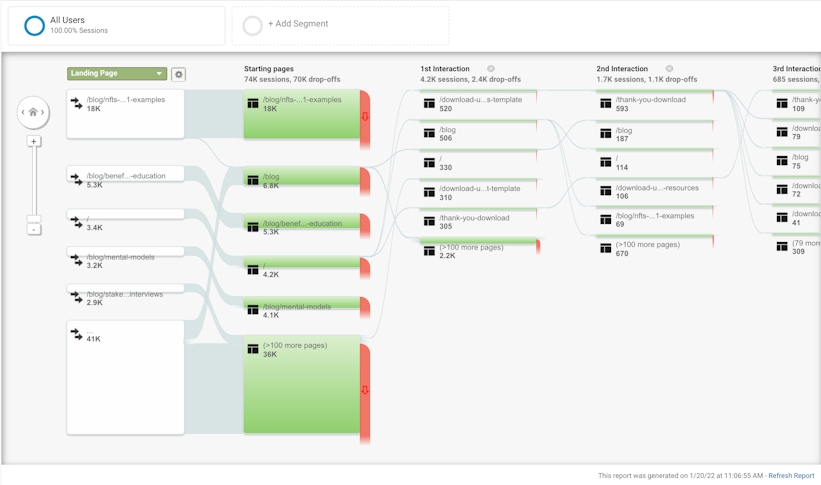 6. Requirement analysis
Any product is built based on a large set of requirements. They typically range from design to code and beyond. Researchers can identify possible issues by simply looking at the requirements of the current iteration of a product. 
These goals provide essential insight into why individual decisions were made. If any lead to usability issues, it's much easier to create actionable recommendations based on them. 
7. Heatmap analysis
Heatmaps are an invaluable tool during a UX review. They are a visual representation of your users' interaction with your interface. 
There are many types of heatmaps. Some document the number of clicks performed on an interface, and the data is color-coded. 
There are also scroll maps. As their name suggests, they record the users' movement as they scroll down a page. 
Last but not least, there are movement heatmaps. They show where users move the cursor most.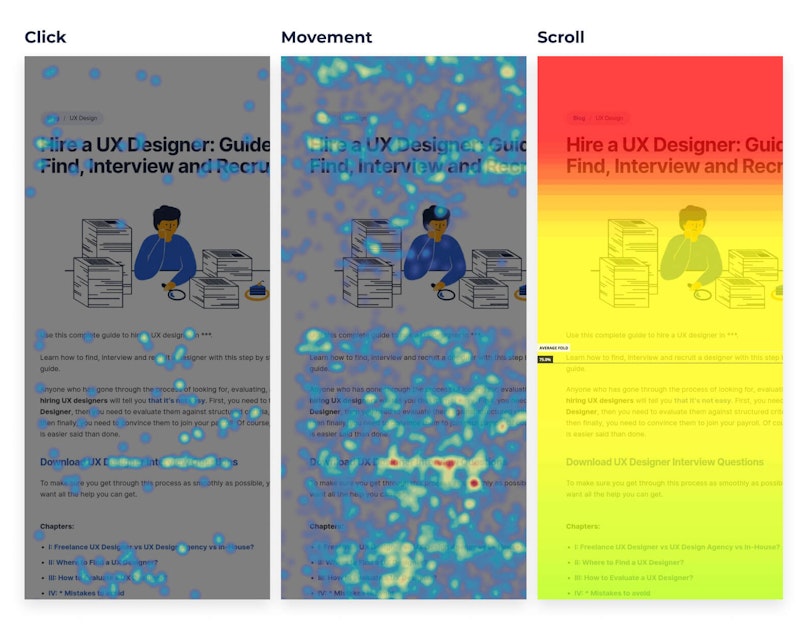 All of them grant an in-depth understanding of user behavior, satisfaction, and the issues they're dealing with. 
8. Desk Research
In a nutshell, Desk Research is scavenging (or as we like to call it – dumpster-diving 🤫) for the UX deliverables that were prepared before the UX team's involvement.
Make sure to don't jump the gun on discarding the legacy design artifacts. At the very least, through desk research, you'll be able to gain insight into the team's operations, priorities, and processes. At best, you'll be able to save time and not do the same job twice. Either way, desk research can benefit your UX audit.
Recap: Auditing makes use of a large variety of tools. All of them are essential for uncovering your product's usability issues.  
Deliverables you could expect from us
In this report, our professionals develop a hypothesis that aims to answer our client's questions. For example, why do their customers act differently from what they're expected to? Why are sales low? Why do customers engage so little?  
These reports are typically in the 30-50-page range. We prefer to stay away from text-heavy reports. We focus on the visual side of things and communicate evidence-supported and actionable advice. 
These reports touch on a variety of areas: 
Product's usability

User flows

Language, clarity, and CTAs

Conversion

Content

Information architecture

Visual design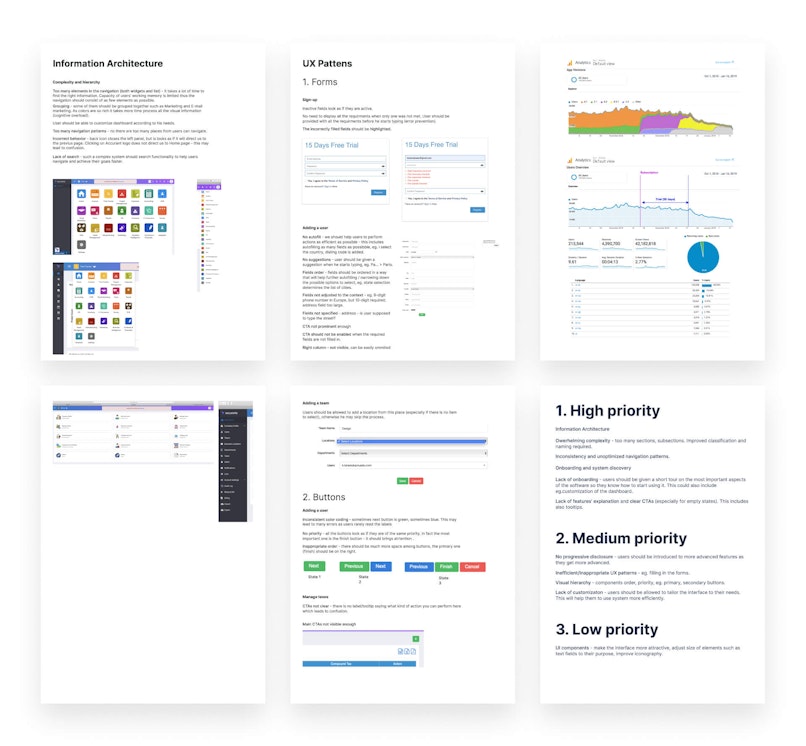 Important disclaimer
It goes without saying that such audits are not a cure-all. User experience is a complex field with many ins and outs. Findings are always subject to interpretation, especially when they're implemented throughout multiple departments and by many people. 
Audits can have little to no effect if they aren't adequately followed up on or contain advice that is not actionable. Always ask for sample reports from the person or agency performing the audit. Make sure their recommendations are easy to interpret to ensure a successful implementation. 
Recap: At the end of an audit, you should receive a thorough review with clear and actionable advice.  
Why you shouldn't do your own UX Audit
If you're on a tight budget, you can run your own audit. But will this provide you with the most accurate insight? Probably not. 
As mentioned, UX is a vast and intricate field. You can't become a researcher overnight or even in a month.  
Another essential reason is bias. As a person who has contributed to building this product, you have a backstory with it. Everything makes sense from a certain perspective. But you are not the user. To be one, you need to be clueless. 
Recap: Bias is the primary reason that businesses should hire third parties to conduct audits.   
Essential tools we use in audits
In this section, we'll take you through a selection of tools that we typically use during UX reviews. 
Hotjar
This is a widely used tool in user experience audits and UX research. We like it because it combines analytics and feedback tools. Previously, you had to use a combination of services to achieve the same results. With Hotjar, specialists can do a great job without having to juggle a large number of tools. 
Hotjar offers visitor recordings, form analysis, feedback polls, and other useful features.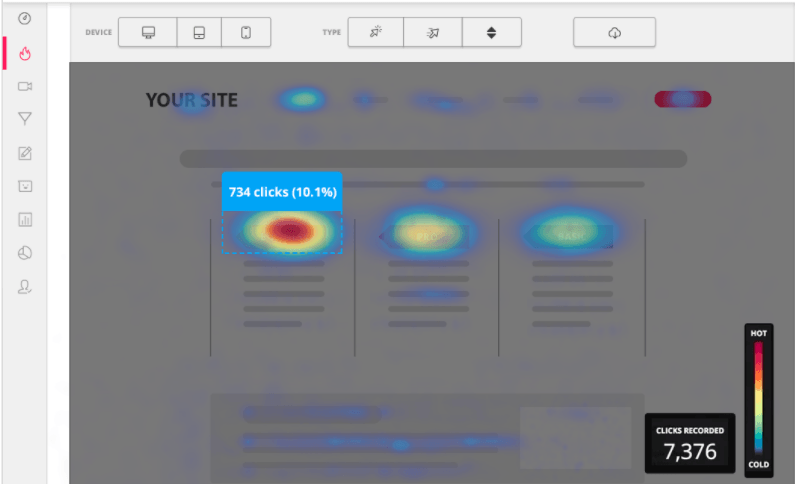 Google Analytics and Firebase
Both of these services are excellent for analytics. You can choose one over another based on the type of product you're looking to audit. Google Analytics is suitable for websites, whereas Firebase is used for mobile app audits.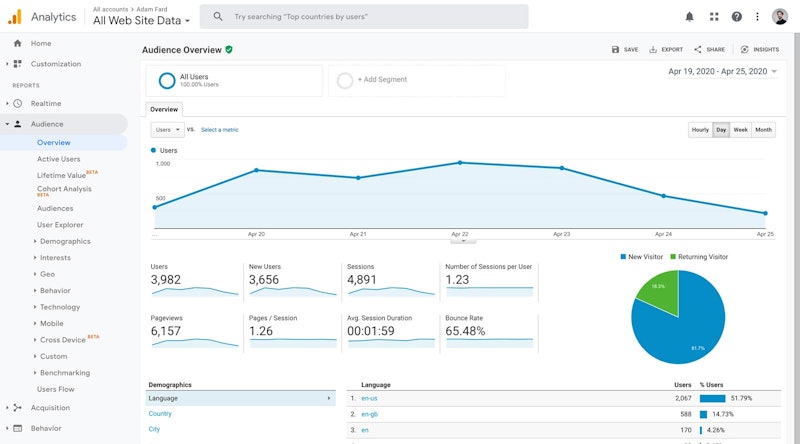 UXCam
Similar to Hotjar, UXCam is designed as a combination of tools that aim to improve user experience. 
The service allows us to tap into statistics, heatmap analysis, and session recordings. UXCam also offers user analysis. This is an excellent tool to understand how users interact with our clients' products.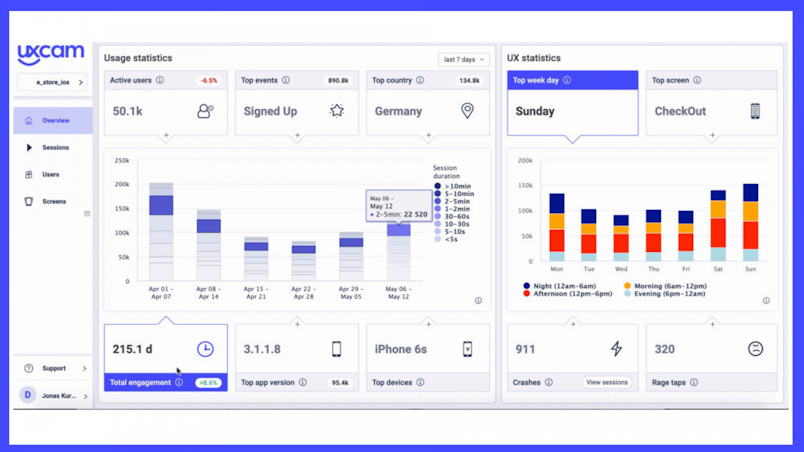 UserTesting
This service is somewhat similar to UXCam and Hotjar. One major difference among them is that UserTesting offers actual recordings of users describing their experience with the product. 
This tool allows us to reach a diverse user base, which is a valuable asset during UX research or auditing.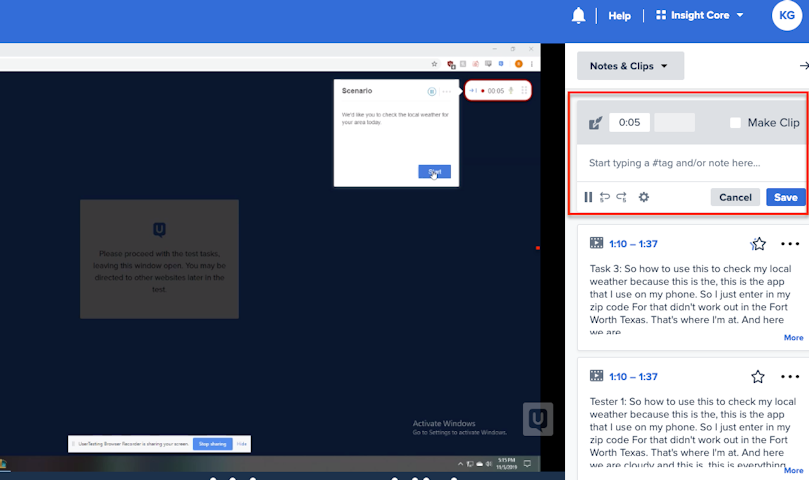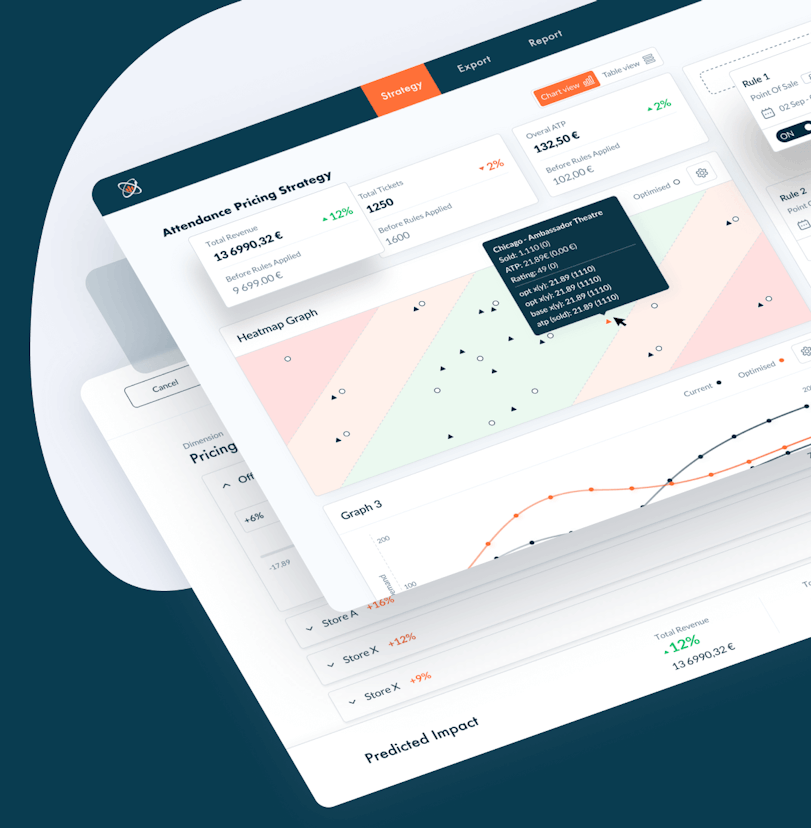 UX Audit Case Studies
We've done this before. See for yourself.
We've helped solve 90% of usability issues, boost adoption, retention & conversion.
See Case Studies
Our UX audits solve important issues
Let's get to the fun part: the results. A UX audit has the power to transform your product and boost its chances of attracting a loyal customer base. Here are a few things you should expect: 
UX reviews result in the improvement of the overall usability of your product.
Your site or app will be easier to navigate, and it will have a more natural and intuitive flow.

You'll see more users achieving their goals, subscribing, and purchasing. 
Your conversion rates will grow significantly.
An audit will help you identify the reasons that your CTAs aren't performing as well as you'd like them to.

You'll receive recommendations on how to better word, place, and design your CTAs, skyrocketing sales and conversions. 
You'll know your users much better.
You'll be able to improve and refine your user personas.

More importantly, you'll be able to understand why certain users don't see the value in your product.

As a result, you'll be able to better communicate with your potential clientele and convert them into paying customers. 
Recap: Audits can have a powerful effect on the quality of your product.   
Conclusion
A UX audit is an essential tool that any product team or startup should have in their arsenal. A well-executed review will help businesses fix problems efficiently, increase retention, boost sales, and create an excellent product. 
Interested in running a UX audit? We'd love to help!
FAQ
What is a UX Audit?
UX Audit is a series of UX activities (such as usbility testing, user interviews, heuristic evaluation, etc.) aimed at improving a product's usability.
How to conduct a UX audit?
First, you determine the symptoms you want to tackle. Then, you conduct UX activities such as heuristic evaluation to pinpoint the exact issues. Finally, you tackle these issues.
What goes into a UX audit?
A UX Audit can include the following activities: user interviews, heuristic evaluation, usability testing, desk research, gauging analytics, and so on.
How long does a UX Audit usually take?
Although your mileage may vary a lot, the reviews we execute typically take from two to four weeks. Throughout this period, a team of researchers will study our client's product and everything adjacent to it. The culmination of this research is an exhaustive report. 
How do you write a UX audit report?
The contents of your report will depend solely on the research methods you've chose. Essentially a UX Audit Report is a collection of smaller reports, e.g. heuristic evaluation, usability testing, user interviews. On top of including all of these reports, make sure to communicate a cohesive set of conclusions based on all of this information.