Are you sure your company does not overlook the business value of UX design?
Nailing the look of your websites, apps, or tools is key to grab consumers' attention, but you can't afford to prioritize form at the expense of function. 48% of consumers consider design to be a key factor when determining a company's credibility — and this expands beyond surface detail.
Your product has to deliver the most practical, user-friendly performance that your team is capable of in order to make the biggest market impact.
This means investing time, resources, and money into effective UX design process.
But it's not so simple. This is a complex area that prompts serious questions. So, let's take a deep dive into the business value of UX design to help your company grow.
UX design helps reduce development costs
Research by The Systems Sciences Institute at IBM has found that the cost of correcting a mistake discovered after a product hits the market is between four and five times as costly as fixing one spotted during the design phase.
For an error identified during the maintenance stage, that cost difference can increase to 100.
It's easy to prioritize efficiency over quality when trying to hit launch dates. But cutting corners and planning to correct issues on the fly after release will only incur further expense.
Make UX design a core component of the concept and development processes from the start. Assign or hire UX designers to focus on the way users interact with the product in minute detail.
Research is pivotal. Talk to your target demographics, and gather valuable feedback on their previous experiences with similar products. Try to pinpoint as many potential obstacles as possible and build these into the UX design framework. One of the most potent ways to test what your customers think of your product is usability testing.
Effective UX design can increase revenue
Your business can achieve better ROI by investing in stronger UX design. One key element is catering to the proliferation of mobile users today, specifically in e-commerce.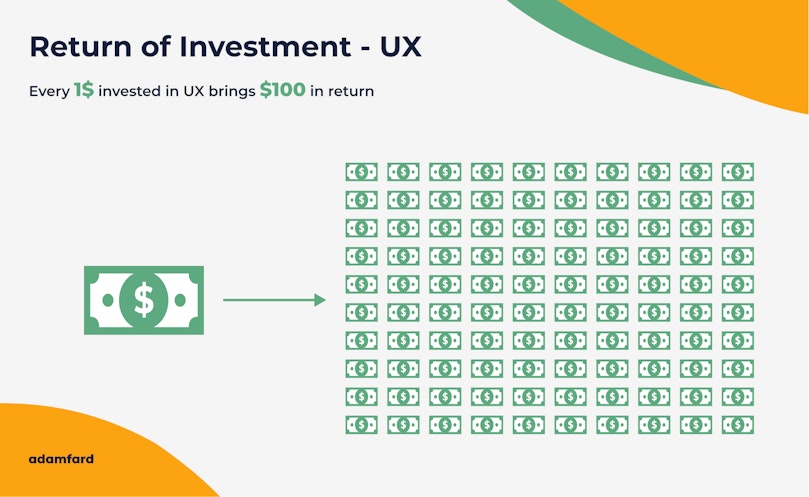 Well over half of smartphone owners in the U.S. buy products on their devices each month (at least), while those shopping via tablets spend 50% more on each purchase than those buying through their phones.
A staggering 62% of companies secured more sales by embracing responsive mobile websites, which offer quality performance on diverse smartphones and tablets.
Believe it or not, almost half of people will actually click back to a different site on the SERP (search engine results page) if their first choice isn't a mobile-friendly and fast loading website.
Think about how your product engages users from the moment they click through. Ask:
How long do your images take to load?

How easy is it to navigate from one page to the next?

Do videos play on mobile devices quickly?

Have you chosen the right background for your website?

Do clashing colors make reading text difficult?
These are just a few questions to consider, but they demonstrate just how much detail you must go into to maximize the value of UX design.
The importance of UX design in converting leads into paying customers
Paid ads, a steady stream of videos on your YouTube channel, and gated content have all helped drive valuable leads to your website, app, or platform.
But you're struggling to secure conversions. In fact, your bounce rate seems to be getting higher and higher.
It's time to take a closer look at how UX design can help your business grow.
For example, the landing page that greets your leads could be the problem. Perhaps you hit visitors with mammoth blocks of poorly formatted text covering why your business is so wonderful. This could be clumsy and off-putting enough to chase prospects away well before they convert.
You could improve your UX by replacing all that text with a video instead. One company — EyeView — managed to help one of its clients boost conversion rates by more than 30% by adding a video to a landing page.
Further research shows more than 70% of marketers find that video leads to higher conversions than any other type of content. It's more engaging and immediate than text and much less passive than static images.
But if you don't have the resources to produce a video, you can still improve a landing page's look by using visuals. Freepik provides a great selection of free photos, vectors and illustrations to choose from in their Popular Photos section. This allows you to select the best image to match your message and help generate conversions.
But good UX design has to incorporate videos in the right way. Make sure they load quickly, play smoothly, and don't disrupt the product's performance elsewhere. Otherwise, it may cause more problems than it solves.
Conversions aside, UX is absolutely crucial for helping your customers stick with your product in the long-run, which is often referred to as "stickiness". In more business terms, stickiness is very close to retention and adoption.
Creating videos adds extra expense, especially if you hire a professional production firm, but remember, making changes after your product launches is more costly than fixing them beforehand.
How UX helps businesses drive brand loyalty
More and more companies are investing in UX. An Adobe blog post highlighted just a few of the big brands acquiring UX firms to deliver a stronger customer experience.
And what of the monetary value of this heightened user experience? Research conducted by Forrester reveals that each dollar spent on UX brings in 100 (on average), achieving an eye-watering ROI of 9,900%.
User experience is expected to become the main brand differentiator moving into 2020, overtaking products and pricing. Companies delivering the best user experience through solid UX design stand to achieve real customer satisfaction and loyalty in the long run.
This is crucial when it's between five and 25 times more expensive to acquire new customers than retain existing ones.
Positive word of mouth and the value of user experience
People enjoying a positive experience with a business are likely to tell nine other people about it, while those facing a negative experience will tell 16.
Online reviews and social media provide users with a platform, empowering the average consumer with the means to affect fellow buyers' purchase decisions. 80% of people aged 18-34 have created their own online reviews, and 91% trust these insights as much as recommendations from friends, relatives, or colleagues.
More than half of buyers will only use a company if it has earned at least four stars.
Investing in quality UX design can leave users satisfied enough to spread the word and become an advocate for your business or product. Their endorsement may help drive fresh traffic to your site, build credibility, and increase conversions.
The UX facts are clear: The business value of UX design is immense — when you get it right.
Effective UX offers your business real, provable value. Yes, it may take time and money to achieve the level of UX design that's right for your product, but this will pay off when you develop a loyal audience of brand advocates.
Don't leave UX design to chance and try to improve it as you go. Changes based on feedback will be necessary with even the best UX, but never use these as a safety net. Focus on delivering the strongest user experience you possibly can from the start.