If technology has benefited any sector the most, it's definitely the education sector.
From the introduction of content management platforms to the launch of interactivity apps and all the action in between, EdTech startups are gaining wide popularity and rightly so, because they have made learning and education so much fun. 
EdTech Design Agency
Boost your EdTech App With Impeccable Design
Whether you're building a new app, or improving an existing one, we've got you covered.
See Our Services
However, we should also look at the downsides of the hype. Getting started in EdTech is not as easy as it seems.
Startups need to tackle a range of educational technology challenges in order to be successful. Let's explore this in detail.
Challenges of Educational Technology
Although everything might look great at a first glance, the EdTech industry is facing significant challenges. On top of that, many entrepreneurs and startups claim that they understand the education system.
However, the truth is that there is no possible way to fully understand all school challenges or comprehend the varied needs of students and teachers.
On the contrary:
You need to be in permanent touch and evolve with them.
Adding to that, many EdTech platforms lack critical inputs from teachers, as well as transparency.
Without having a deeper insight into how students learn and how classroom technology impacts learning outcomes, it is tough to address these challenges.
Furthermore, from our experience, we can confidently say that most EdTech startups struggle with ensuring satisfactory usability
This makes it hard for the end-users to understand and grasp the system.
In most cases, teachers find the use of apps and platforms a bit difficult, while students are not used to the AR/VR used in tech.
Designing a flawless and easy-to-follow UX is a great challenge that most startups face. But that's not all we have learned about startups' pitfalls in EdTech. 
Let's explore the various challenges in detail in this next section. Don't worry, we will also provide solutions. 
Challenges Faced by EdTech Startups
EdTech is booming more than ever!
Undoubtedly, the EdTech industry is growing at a rapid rate.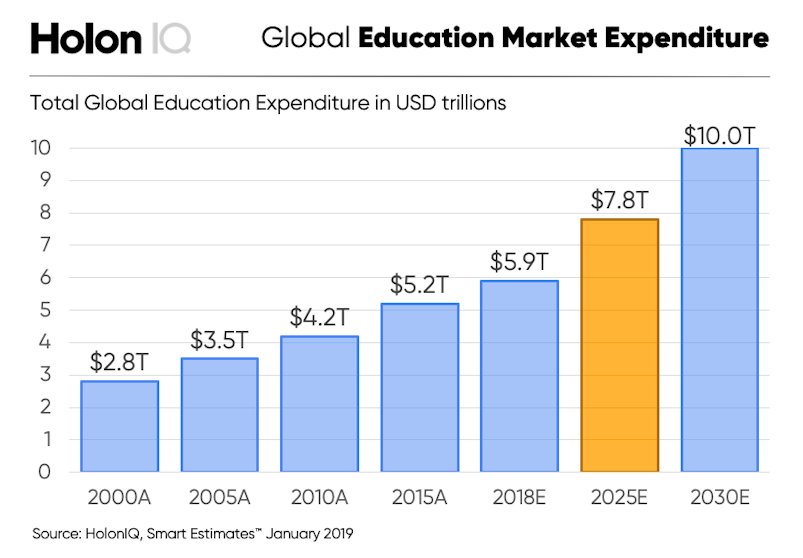 This makes startups believe that the industry guarantees bright prospects. However, what most of them forget is the ever-rising competition in the field. 
There are hundreds of competitors in the market, which makes it tough to stand out and look original.  
Solution:
Let's admit it:
The industry doesn't need yet another average classroom management tool or learning management system.
Believe us, this approach will not take you far, and neither will it help you secure any funding.
You need to be different and make the best use of innovative tools and services to stand out in this already crowded market. 
Resistance to change
This might seem hard to believe, but yes, the industry is somewhat resistant to change.
Although schools, colleges, and universities aim to introduce great leaders and innovators to the world, it is ironic how much these institutes refuse changes. 
The truth is that most educational institutes are comfortable with a traditional book and whiteboard approach.
Furthermore, most teachers and administrators consider technology as a threat to their position and are not willing to accept it. 
Solution:
As a responsible startup, it is your duty to demonstrate the real value and benefits of EdTech technology.
It is important to keep in mind that change in the education industry does not come easy. You will have to present a strong case to doubtful decision-makers.
It is necessary to showcase the usefulness of your product and focus on its innovative features that aim to enhance learning.
This will encourage the early adoption of your product.
Student privacy concerns
Many colleges and universities are worried about their students' data and privacy.
Somehow, they believe that the integration of technology at the school/district level will compromise the integrity of student data and pose serious concerns.
Our findings in 2019 still indicate a widespread lack of transparency and inconsistent privacy and security practices for products intended for children and students. – State of EdTech Privacy Report, Common Sense Media
Solution
Awareness is the key.
It is essential for startups to demonstrate that their technologies are completely safe and secure.
Help them understand that crucial data will not be lost anywhere in the process.
Instead, educators will be able to harness the power of data by using analytics and thus, make better-informed decisions. 
Limited budgets
It is important to mention here that not all schools and institutes are skeptical about the importance of EdTech.
Actually, many of them acknowledge the benefits and implement technology in education.
So, what is the challenge?
The answer is a limited budget.
Schools, especially public ones, have limited budgets and are unable to implement the required technologies on their premises.
Solution
Startups need to introduce economical pricing strategies that can meet the purpose of all schools and institutes, irrespective of their budget.
Offering free products and services to the end-users, along with exploring alternate monetization options through partnerships and other models, could be one such approach.  
The gap between the academic and startup world
In our experience, this is one problem in EdTech industry that most startups face.
It is all about the difference in ideologies.
While startups focus more on action items, results, deliverables, and iterations, this is completely different in the academic world. Education is all about discussing, debating, and learning.
This difference in basic ideologies leads to cleavage and lack of exchange. 
Additionally, unlike startups, educational institutions are hardly agile. Decision-making and change implementation is much slower and more tedious. That results in sales cycles being painfully slow. However, there are merits to this too.
Once an educational institution commits to certain software, they tend to stick with it for a long time, unless you give them a very good reason to change their mind.
Solution
Nothing comes easy, and startups would need to better embrace the academic world.
Communication is key here.
Ask your affiliate academic decision-makers about their success stories and challenges, and show an interest in what they have found out already.
Then, help them understand the value points that EdTech can facilitate their institute with. 
The process of interviewing internal experts within your team is referred to as stakeholder interviews. These can help you grasp the priorities of different decision-makers.
If you don't have access to certain user groups or stakeholders internally, then you should proactively reach out to them to learn their perspectives. That's usually done through either a user interview or a usability testing session.
It works even better if you have a few teachers and teaching professionals in your team.
This will help you explore the education industry in the shoes of an educator and will help you tackle challenges more easily.
What are your views on EdTech challenges? Do let us know in the comments below.
FAQ
What are the challenges of educational technology?
In short, edTech startups struggle with securing a competitive advantage, resistance to change, privacy, limited budgets and lack of overlap between the tech and the education world.
Why are EdTech startups facing challenges?
Mostly because they have not understood the industry well and are not doing enough to explain the problems that their product intends to solve.