Launched in 2018, Notion quickly became a sensation in the productivity bubble reaching a staggering million users by 2019. In 2021, the app has become indispensable for both personal and corporate use. We at Adam Fard Studio are no exception. We've been using Notion since its early days for all intents and purposes: project & task management, documentation storage, education hub, etc.
Being design geeks that we are, we couldn't accumulate a vast amount of notes on Notion's design. Therefore, we thought it'd be fun to consolidate our thoughts and create a review. We've structured our thoughts into pros and cons.
⚠️ A brief note on the article's structure: alongside the general notes, you'll find quotes from our design team.
Without further ado, let's get into the article!
Sorted pros
Pro #1 – Simplicity
The first thing the whole of our design team pointed out is that how simple yet powerful Notion is. Even without grasping the app's full potential, many first-time users can recognize the fluidity, intuitiveness, and responsiveness of the app. Then, of course, it would take some trial and error to utilize Notion better, but it's certainly manageable.
Let's unpack the simplicity into more concrete terms:

– The app is fairly simple. It's fairly easy to format the pages and other types of content.

Easy to understand. Easy to reference pages between themselves. Navigation using the keyboard is awesome
Pro #2 - Customizability
We're sure that although Notion boats millions of users, no two users utilize the app in quite the same way. There are simply too many things you can customize. Additionally, the use cases are nearly limitless.
That said, let's get into a slightly more detailed account of what makes Notion so customizable:

– The number of layout/components options to select from - being able to quickly add media, tables, or even more complex elements such as Gantt charts to a document is fantastic. In addition, your document is kept clean and tidy.

– Customization of notes, so you can see titles, dates, and other parameters that you need; It's easy to customize files (add properties; date; badges; icons; etc.)

– Many customization options for navigation structure. I like the flexibility of the categorization of content.

– Different views for pages (boards, timelines, lists, etc) are great
Pro #3 – Versatility
When it comes to the workplace, no one likes to use more apps than they absolutely need to. Otherwise, you just get bogged down in a myriad of tools that often aren't integrated, which is a recipe for tedious and needless work.
What's so great about Notion is that it's able to replace a large number of apps. In fact, we at Adam Fard Studio are content with using Notion as single project management and documentation tool.
Let's zoom into the versatility a little more:

– Notion seems to be a great replacement for multiple tools such as Trello (see our Trello UX review), for Kanban bards, Google docs and co. for text editing or even management tools such as Basecamp or Monday.com.

Fast way to create checklists, submenus, pasting images through the Basic blocks;

– The modularity and the ability to turn the same entity into a post, or a table row or something else

– I like the integration capabilities (email notifications, slack etc.)
Pro #4 – Collaborativeness
Real-time collaboration is a make-or-break feature for the overwhelming majority of corporate users. There are very few apps out there that are useable solo. In that regard, Notion does not disappoint. 

– Collaborative editing is essential

– Collaboration: easy to work together on one document. Ability to see who edited a document last time
Pro #5 – Templates
Templates are a lifesaver for any repetitive task. Notion has a bunch of those. It's especially useful for the new users (see our UX onboarding checklist), who haven't had the time yet to fully comprehend the breadth of usage.
Pro #6 – File Management
We keep a lot of files in Notion in either an embedded form or as attachments


– Import information is very easy

– Easy to set a structure for a document: the ability to change instantly type of the block
Sorted Cons
Con #1 – Navigation
An app with a usage breadth so wide as Notion's is bound to struggle with navigation to some degree. Also, the fact that you can nest pages within pages within pages and so on doesn't help either. 

–No tabs on the desktop app version

– Navigation could be improved. I'd add visually more accent on primary action. In terms of hierarchy: there's a need to distinguish clearly what is the most important and what is secondary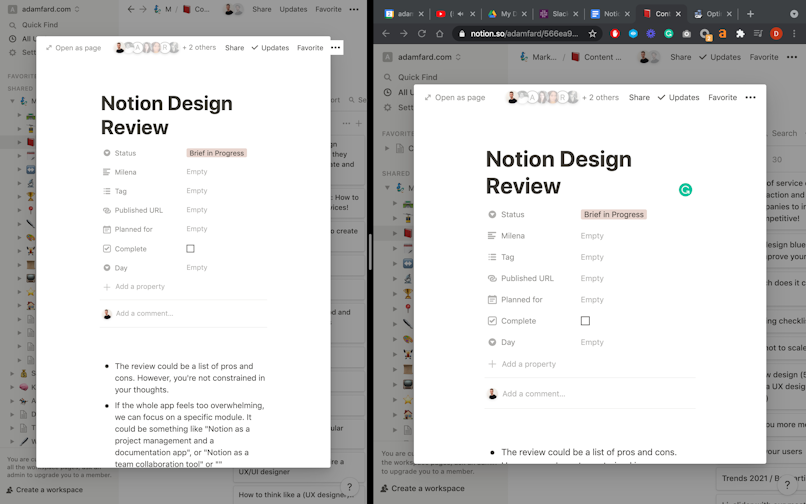 Con #2 – The learning curve
Yes, we did say that Notion was fairly easy to get into. However, even after years of usage, we're still not sure that we use it to its full potential. We'd say that it's an "easy to learn, hard to master" situation.
There are a lot of features hidden in drop-downs, a lot of properties, and use cases.

– You need to spend a lot of time to fully utilize Notion

A lot of options for content, a bit overwhelming to discover in a small dropdown. A bit hard to understand how to use properties. It needs some trying/failing to get how it works
Con #3 – Error recovery
Mistakes are inevitable. However, it's the job of the design team to foresee them and help users rectify them. For the most part, Notion delivers on that design principle. There were a few instances where this wasn't the case though.

– Copy-paste feature is not perfect. Sometimes the structure of pasted elements is broken; Sometimes it's not clear what you remove and as a result, there is a chance to remove something by mistake.

– Unclear way to undo file deletion – it is mostly reserved for admins, a user has to revert the entire board to an earlier state in a changelog that is pretty hidden.
Additionally, the Gantt Chart view could use undo option. Gantt chart view could have custom addition of events that are not tied to board content (just a label as in a file with a chart).
Con #4 – Feature discoverability
While versatility and customizability are good things, they sometimes may be at the expense of discoverability. What it means, is that if there's a large selection of features, they become harder to find.
Speaking of the discoverability of Notion's feature, here's what we have to say:

– Some interactions are kind of hard to discover because they are hidden, visible on hover

– The list of possible elements to add is long and adding a picture (which is a quite common thing to do) takes too much time. Maybe a visible bar with all the options accessible right away could be an option (not on hover).
Con #5 – Inconsistencies
Visual appeal aside, inconsistent designs are often synonymous with confusing designs. Normally you would expect similar features or patterns executed in a similar way. By and large, this is the case with Notion. However, there are a few inconsistencies we've managed to catch.

– No consistency in behavior while clicking on menu items: in some cases, it is a dropdown, in some- pop-up. As a user, I can feel insecure since I don't know what to expect by clicking on the item

– Some interactions are a bit confusing which has an impact on the efficiency of work e.g. actions available on hover only. Limited flexibility - E.g. Not being able to modify certain elements, such as font size in the toggle list title.

Conclusion
Although we've identified nearly the same number of pros and cons, the advantages clearly outweigh the drawbacks. We believe that Notion's experienced great success not accidentally, but at least in part because of its great design.
That said, we hope you found this review educational and entertaining. Thanks for sticking till the very end, and see you in our next article!