We've all been there — using a product for the first time and suddenly feeling disoriented. We instantly become frustrated and lose motivation. 
This unfortunate experience can seriously hinder all the excellent UX work put into a product. Imagine all the research, testing, and design invested into a digital experience, to only be tripped up by a poor onboarding process.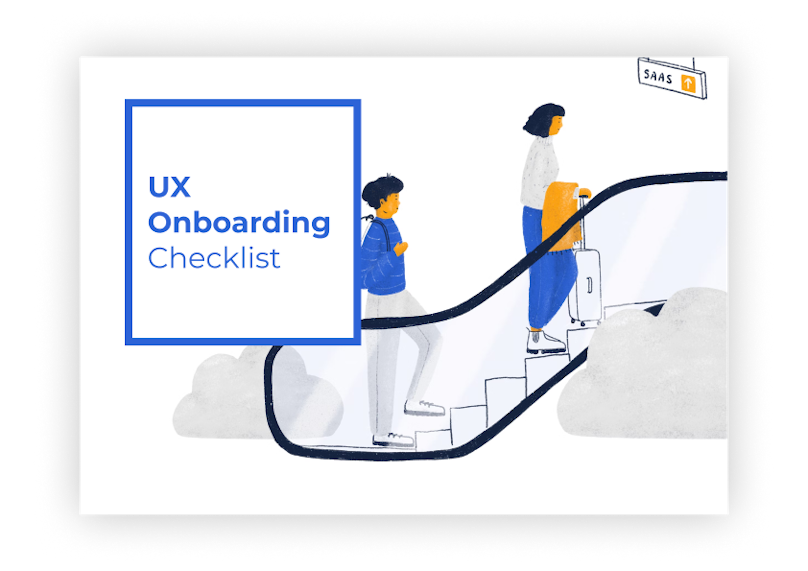 Free Checklist
UX Onboarding from Scratch
Check out our free editable onboarding checklist to ensure optimal activaiton & conversion.
Download
In this article, we'll take a closer look at what onboarding is and how it can significantly improve a person's experience with an app or service. Plus, we'll explore a few great onboarding examples from Hootsuite, Netflix, Spotify, and others. 
What is user onboarding?
The process of onboarding a user revolves around providing useful instructions on interacting with a digital product. There is a wide array of onboarding types which we'll explore below. Their complexity varies from simple tooltips to walkthroughs, tutorials, and beyond. 
Great onboarding experiences demand a focused approach. It's essential to consider the individual differences between your users and their peculiarities. Adjusting for learning styles and crafting unique approaches for each user segment is a surefire way of boosting the success of your onboarding flow. 
Why is onboarding important? 
The central function of user guidance is to make a customer proficient as quickly as possible. 
Now that we've established its purpose, let's explore a few important ramifications. How does proficiency aid user experience? 
Digital products demand large investments both from a financial and a person-hour perspective. 
You can design an impeccable product, yet your users will become dissuaded from using it if its learning curve is too steep. They'll either churn due to a sense of disorientation or the inability to appreciate the product's value. As a result, this will lead to decreased returns and adoption.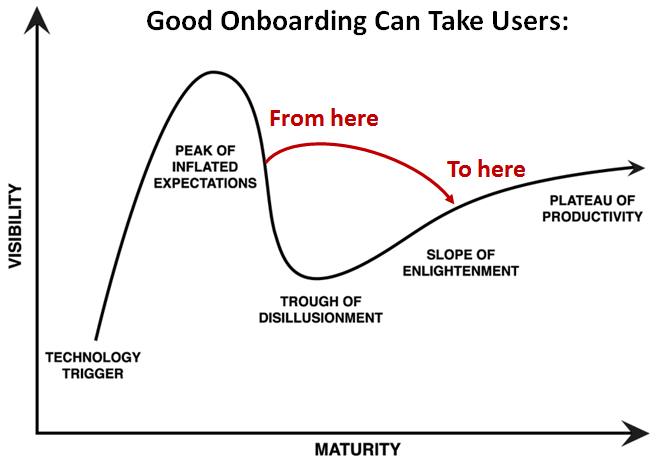 Furthermore, a positive first experience yields loyalty. Initially, people downloaded your product to solve a problem they're facing. By onboarding them, you're placing all the essential tools in their hands and providing them with clear instructions on how they work. 
Allowing your customers to immediately realize your product's value and how it can improve their lives is a direct path to success. 
What are the most common onboarding types?
Choosing the right kind of onboarding is a means to achieve both user and business goals. Your choice should be defined by your product type and the parameters of your audience. 
Below, we'll explore a variety of strategies that can help you establish which one should work best for you. 
Account-focused onboarding
This is a very common choice among services that revolve around data. To successfully use products like YouTube or Facebook, users need to provide quite a bit of information. While this can be a tedious and time-consuming task, a well-thought-out onboarding can mitigate this discomfort.
For instance, here's how Netflix helps their newly-arrived users to outline their interests:
It's a simple way to improve a person's experience with a service without asking them to fill out forms or choose preferred genres. 
Spotify does a very similar thing while trying to calibrate a user's music preferences. 
After a user chooses a few artists they enjoy, Spotify creates playlists and fine-tunes its suggestions to the user's taste. This benefits users by saving them time from looking for music manually. 
Learn-by-doing
This tactic guides users through actions that they'll most often take. It enables them to quickly learn about your products' most important features and how to use them effectively.
For instance, here's Hootsuite's approach to onboarding their users: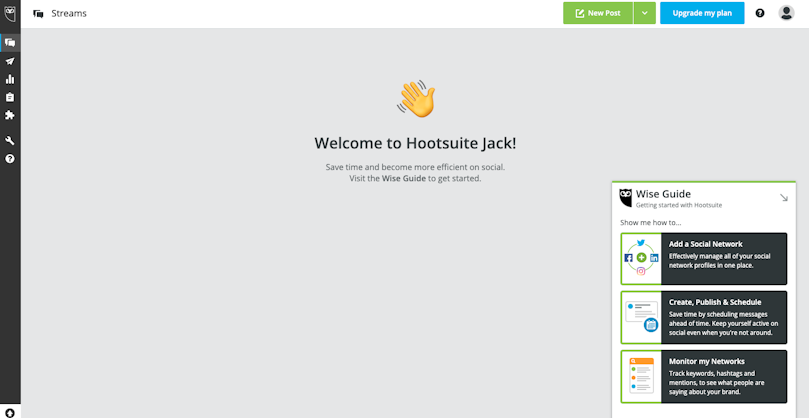 The service's Wise Guide (lovely pun!) displays some of Hootsuite's core features and guides them via progressive disclosure. 
Another great example is Bear Notes. When a user launches the app for the first time, they'll notice that Bear Notes already has multiple entries that contain onboarding tips.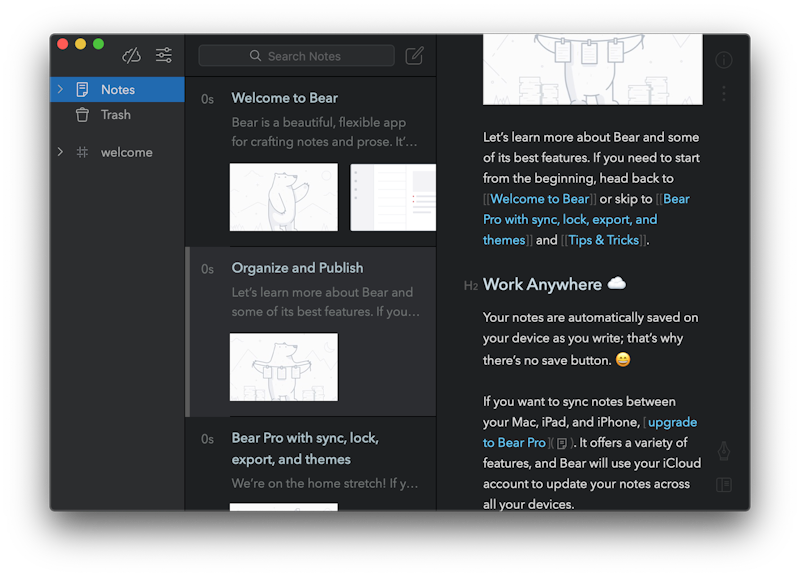 Manual Onboarding
This approach will often delegate representatives to run one-on-one or group sessions in person or via teleconference. While it isn't necessarily feasible in the B2C sector, it has shown to be very successful in B2B. This method is most commonly used with extremely complex and customization-heavy enterprise apps.
Benefit based, matter-of-fact informing
This tactic revolves around the benefits that a person can extract from the product. It shows them how to access certain features and how they can use it to achieve excellent results. 
The benefit-focused approach is also widespread in health and wellness-related products. Meditation, smoking cessation, diet, mental health apps, and others repeatedly state the benefits users will reap from using them. 
Take a look at how Miro progressively shares its functionality through useful pop-ups.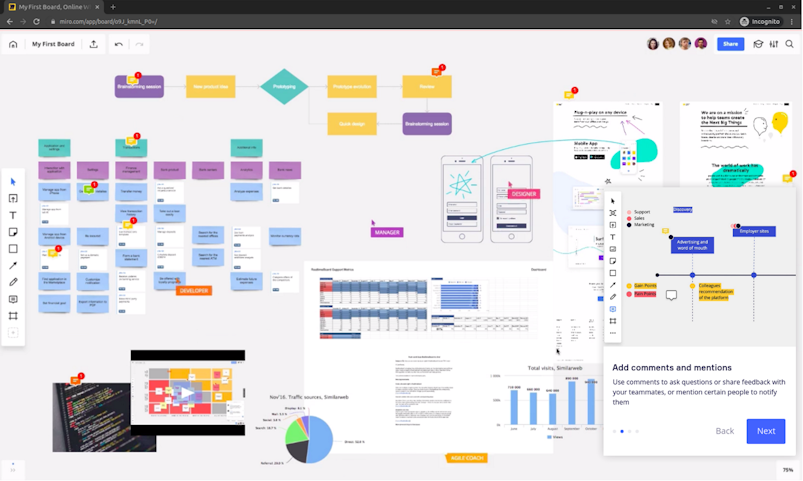 Sandbox-based
Typically this onboarding approach is used when an app or service needs data to showcase its full potential. Think of Google Analytics, for instance. To function, the service needs access to some sort of data to illustrate its functional capacities. To mitigate this shortcoming, they've opted for the sandbox approach.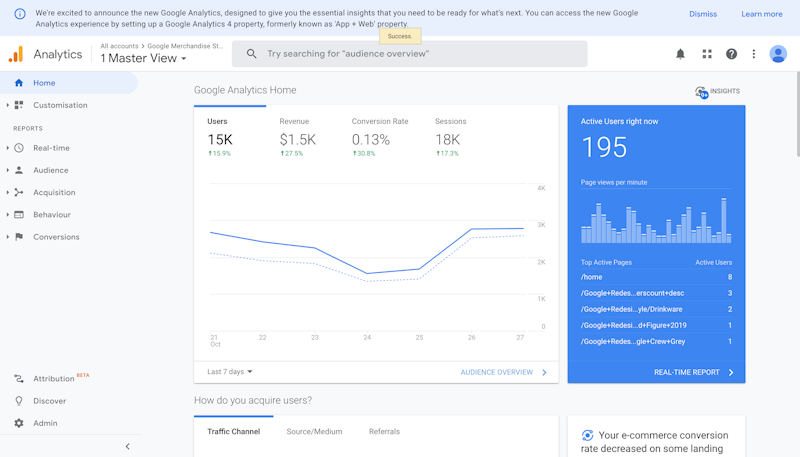 Google Analytics gives users access to a fictional merch store's data, allowing users to experiment with the service. 
Additionally, this method works well when dealing with products where the cost of error is too high. For example, new users can mistakenly delete a large amount of data in a CRM that they're exploring. Here, a sandbox approach will definitely help avoid costly mistakes. 
Educational videos
Sometimes, the easiest way to onboard a user is via educational videos. This is especially relevant if the product is complicated and packed with features. 
Wistia, a video marketing software that provides users with numerous video tutorials about their features. They've chosen this route because, aside from showcasing their product, they can also show the people behind the product and learn about their users.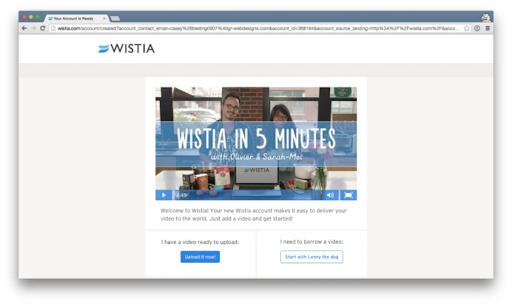 Additionally, educational videos are useful not only for onboarding purposes but also for marketing. Using the best 4K video editor you can make useful videos for both purposes. See how an SEO tool for marketers and website owners created SEO courses that integrate their own tool.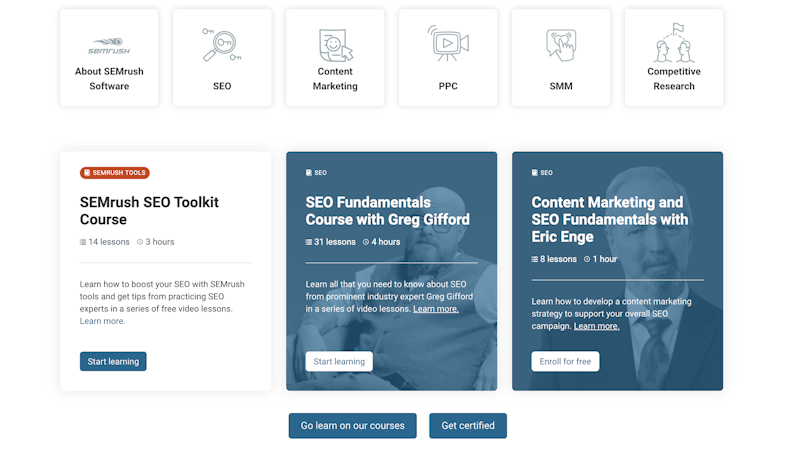 Things to keep in mind 
While creating an excellent user onboarding flow does seem like an arduous task, there are a few simple things we need to take care of beforehand. 
Establish whether you need an onboarding
The truth is that in some cases, users don't really need guidance. If your product is formulaic and extremely intuitive, you can consider leaving onboarding out. When in doubt, run user interviews and/or usability testing to establish whether your customers need assistance. 
The central focus of user guidance is value. Onboarding for the sake of onboarding can be redundant and can cause user frustration.
Educate users incrementally
The reason onboarding is necessary in the first place is a product's steep learning curve. Lumping large amounts of information to address this issue is bound to create more confusion. 
Make sure to structure your suggestions in bite-sized chunks, so that users find it easy to learn.
Furthermore, it's vital to note that first-time users are most probably looking for a few simple tips, but not information overload. Therefore, it's best to start with the most basic stuff and build on that knowledge as they advance. 
Allow users to pause and resume
We're not always ready to start learning how a tool or service works. Allowing your customers to opt out of the onboarding routine and letting them resume it whenever they see fit is always a good idea. 
Testing your onboarding
There are a couple of ways you can establish what your onboarding experience should cover and whether it's succeeding in doing so. 
Usability testing is an excellent way to identify potential problems with your onboarding process. By identifying and addressing those problems, you'll be able to ensure better retention rates and adoption;

Tools like HotJar, Mixpanel, Full Story are great services that can help you significantly improve UX. They can surface a wide array of opportunities to optimize an onboarding experience and explore new solutions to improve it; 
Conclusion
An excellent onboarding experience is a means to create a lasting first impression. By guiding your users, you'll be able to trigger their curiosity and fuel their loyalty.